The Lookout, RSPB Insh Marshes Reserve
Combining beauty with accessibility to create a hide in one of the most important wetlands in Europe.
Brief
The RSPB engaged Bell Ingram Design to provide a replacement building for a bird hide at its Insh Marshes reserve, which is one of the most important wetlands in Europe. The new building needed to fulfil a number of important additional functions:
• Provide a panoramic viewpoint over the marshes and to the mountains beyond.
• Provide a shelter for group talks by the reserve rangers.
• Provide an interpretation space for information on the life of the marshes.
• Act as a focal point for visitors to the reserve and assisting through high quality design to promote the reserve.
• And last, but not least, allow access for all abilities which the previous building did not achieve.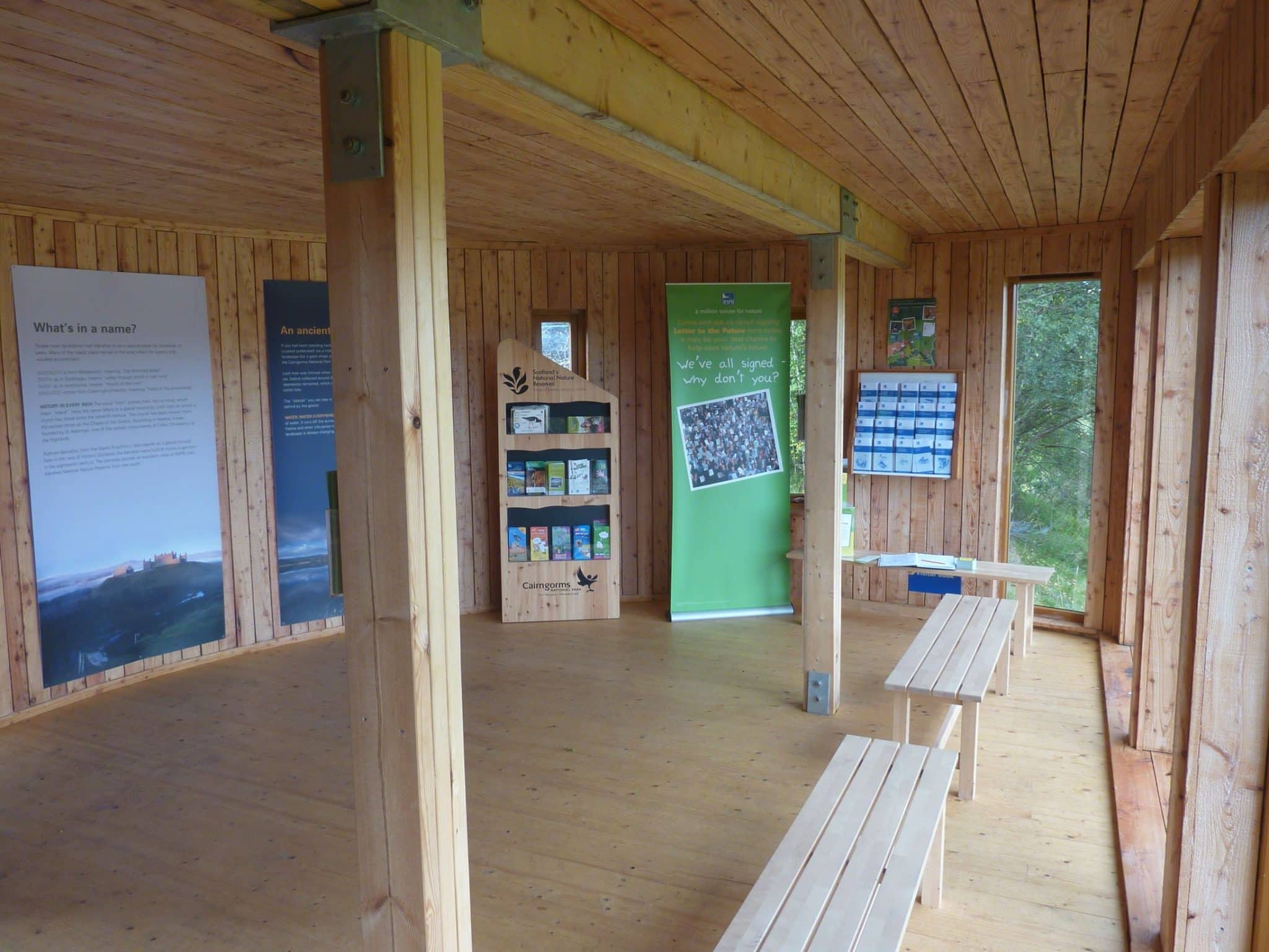 Process
The approach was to create a building on two levels with both areas accessible to all abilities. A lower enclosed level would provide a sheltered viewing space, interpretation space and space for group talks while an open upper level would provide unhindered 360 degree views over the reserve.
The building itself was designed with a circular form 'sliced' through with a fully glazed floor to ceiling 'viewing wall' projecting out over a steep banking running down to the marshes below. This form was designed to create both a sense of shelter and at the same time drama for visitors.
This approach was made possible by utilising the topography of the site to allow full wheelchair access to both levels of the building.
Outcome
Located as it is in both a National Nature Reserve and National Park, the design took great care to minimise disturbance to the landscape.
The building has proved to be very popular with the general public, and has helped to bring increased numbers of visitors to the Reserve, particularly local schools to use the classroom space.
Recognition for the project also came shortly after its opening with its inclusion in the Cairngorm National Park Design Awards shortlist.
Our people
Murray Fleming
Architect
Senior Associate
Tel: 01463 717 799

About: As Senior Architect based in Bell Ingram's Beauly office, Murray is responsible for the company's architectural services covering the Highlands and Islands. He has extensive design and project management experience in a wide range of building sectors, including residential, commercial, public and healthcare. Interests: Full architectural design service, Planning advice & submissions, Feasibility studies, Condition surveys, Building warrant advice & submissions, Administration of construction contracts.
Article posted on 23/07/2020