Are UK house prices falling in a changing market?
Opinion around the direction of house prices is as divided as ever. One thing's for sure, there's a notable increase in properties being either reduced in price or quickly coming back onto the market. But what does this mean for buyers and sellers?
Having experienced several recessions, it is easier to take a back step and view the market with some objectivity.
In any market that starts to change, the main difficulty is that sellers continue to assess their property value with the expectation of achieving last year's premium price of around 15% – 25% above Home Report valuation. That of course is the key. The Home Report valuation which forms the actual 'bricks and mortar' valuation was being excessively exceeded in 2022. As the property market readjusts, this premium has now been massively reduced or has disappeared altogether.
So with sellers still looking for a premium and buyers looking for discount, the resulting gap makes it difficult to progress a deal.
Many of the price reductions and failed sales are as a result of sellers accepting conditional offers subject to the sale of a property. But with the change in the market, buyers who have made offers subject to a sale, find themselves trying to sell in a market which has changed beyond all recognition from the buoyancy of 2022. They have been caught short with their expectations of selling at a premium price. This has resulted in one of two things, either an attempt to renegotiate the terms of a purchase or to completely withdraw from the transaction. That property is then brought back to the market.
Some sellers who are committed to a purchase will then have no option but to reduce their own asking price and, in some instances, there have been several reductions in order to secure their own sale. Thus, it is being noted throughout the market that house prices are decreasing.
Asking prices do need to be realistic and viewers need to be aware that any offer which is subject to the sale of a property is rarely accepted. Once the realisation of this situation becomes clear, then sellers will commence marketing their properties before securing a purchase. This will help to increase the available stock levels which still remain extremely low.
There are obviously a number of other key factors which are influencing the change in the market. The fluctuating interest rates and the availability of competitive, long-term mortgage rates are all causing a knock-on effect. Add to this the cost-of-living crisis including fuel costs, food costs and the war in Ukraine, and it is easy to appreciate the hesitation and ultimately a lack of confidence in the market.
So, in answer to the initial question – are prices falling – the answer would be that asking prices and the high levels of expectation are definitely falling, but valuations remain stable.
Our people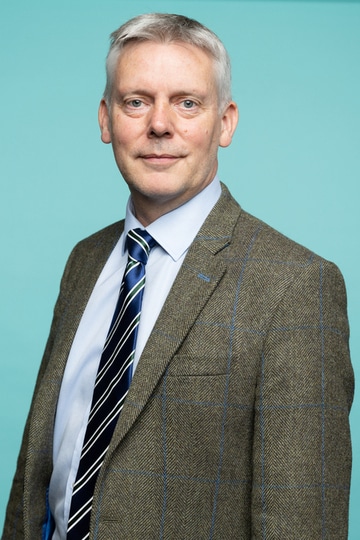 Carl Warden
Partner
Estate Agency
Tel: 01738 621 121

About: Carl heads up the Residential Estate Agency division for the company and has a proven track record within the Scottish property sector. He has been marketing property in the Perth and Kinross area for over 35 years and has vast and detailed practical experience and knowledge of selling prime residential property: from period homes to contemporary developments. Carl is well known in the local area, having developed excellent relationships with buyers and sellers. His wider role involves looking after and supporting our Agency teams and colleagues in Oban, Beauly, Ayr and Forfar. Interests: Estate Agency, Market Valuation, Negotiation.